Here at House of Coco we love art and we love travel – so why not combine the two and go visit some of these incredible sculptures across the world.
Viccisitudes – Underwater Sculpture by Jason deCaires Taylor
Viccisitudes is one of Taylors first underwater sculptures – it is 5m deep in Grenada, West Indies. Born in 1974 to an English father and Guyanese mother, artist Taylor grew up in Europe and Asia, where he spent much of his early childhood exploring the coral reefs of Malaysia. With over 20 years diving experience under his belt, Taylor founded and created the world's first underwater sculpture park. Situated off the west coast of Grenada in the West Indies it is now listed as one of the Top 25 Wonders of the World.

Freedom Sculpture in Philadelphia, Pennsylvania
Artist Zenos Frudakis said "I wanted to create a sculpture almost anyone, regardless of their background, could look at and instantly recognize that it is about the idea of struggling to break free. This sculpture is about the struggle for achievement of freedom through the creative process."

Freddie Gilroy in Scarborough, UK
On the North Bay, you'll find the striking steel sculpture entitled 'Freddie Gilroy and the Belsen Stragglers' made by Ray Lonsdale an artist fabricator and sculptor. This sculptures is now on permanent display thanks to the generosity of a local Scarborough resident. The sculpture is based on a retired miner who turned out to also be one of the first soldiers to relieve the Bergen-Belsen concentration camp at the end of World War II.
House of Knowledge, Sweden
House of Knowledge is in Borås, Sweden by the exceptional Jaume Plensa.
Mustangs By Robert Glen, Las Colinas, Texas, USA
The world's largest bronze equestrian sculpture by Robert Glen decorates Williams Square in Las Colinas in Irving, Texas. The sculpture commemorates the wild mustangs that were historically important inhabitants of much of Texas.
The Monument Of An Anonymous Passerby, Wroclaw, Poland
The monument is located in the busy section of Wroclaw – the crossroads of Piłsudskiego and Świdnicka streets next to Arkady (the arcade passage).
People Of The River By Chong Fah Cheong, Singapore
Chong Fah Cheong is a Singaporean sculptor known for many public sculptures in Singapore. Though he worked in a variety of styles from abstract to figurative, his name is identified with a series of figurative sculptures depicting the life of people living and working along the Singapore River.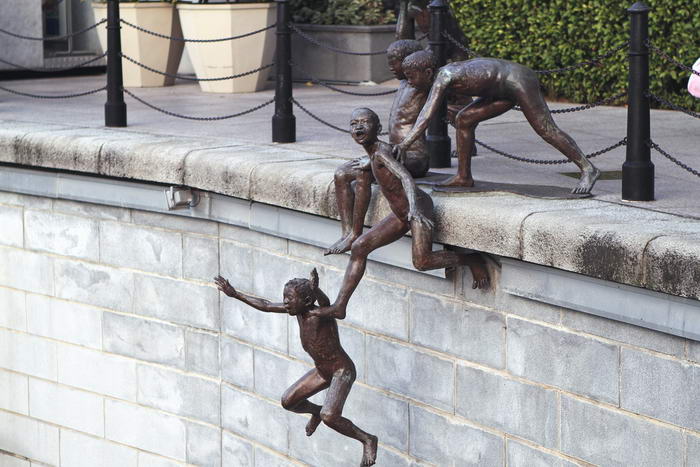 The Kelpies, Scotland
A 30-metre-high horse-head sculptures, standing next to the Forth and Clyde Canal, and near River Carron, in The Helix, a new parkland project built to connect 16 communities in the Falkirk Council Area, Scotland.

Les Voyageurs, Marseilles, France
French artist Bruno Catalano has created an extraordinary series of eye-catching bronze sculptures called "Les Voyageurs" in Marseilles that depict realistic human workers with large parts of their bodies missing.
Sinking Building Outside State Library, Melbourne, Australia
It appears the concrete in front of this State Library has turned to quick sand, swallowing another library in its path.