Strike a pose opens this weeks in cinemas internationally – House of Coco were lucky enough to get first access last summer – we have always been a Madonna fan being the ultimate girl boss! –  so when we heard that directors Ester Gould and Reijer Zwaan were putting together a documentary covering the dancers from the  famous 'In bed with Madonna' (Truth or Dare) documentary – we had to check it out!
Strike a pose is a moving documentary which almost seems like the final chapter. Whoever saw the 'Blonde Ambition' tour would have always wondered whatever happened to her dancers once the tour ended. First of its kind – and almost the first time we had experienced 'reality' TV. The blonde ambition tour was fierce with its incredibly toned and talented dancers – fashion from Gaultier and the perfect amount of sex and religion which would cause mayhem at the Vatican – if you wanted a show – this was it.
Strike a pose – the ultimate reference to 'Vogue' in which all the dancers appear in – follows all the dancers around and revisits their lives minus one Gabriel Trupin,  who sadly passed away  in 1995 – the film however interviews his mother which in a heartbreaking scene addresses certain issues "It wasn't a statement that he wanted to make – it was her statement," referring to Madonna –  fighting back tears Trupins mother tells directors Gould and Zwaan.
The film is heartfelt – we are moved by scenes with their mothers – the solidarity is still there after 20 something years – the boys are men now – but the friendship is still strong.
Strike A Pose' is the perfect what happened afterwards reunion that serves as the icing on top of the cake – we give the film a ten out ten.
We caught up with dancer and choreographer Kevin Stea – who gave HOC some behind the scenes access – who's repertoire includes work for Janet Jackson, Britney, Michael Jackson and Beyonce.
Kevin thank you for taking the time to sit and discuss the new film with us! We have seen and we were hooked!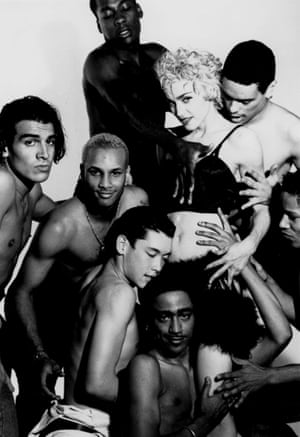 Strike a pose is moving –  A few tears were shed from the HOC team – even the blackest of hearts! Were melted! Was it hard looking back? Especially with Gabriel no longer with us
Yes it was very hard looking back.  In a broad sense it was easy, like a vague romantic scan of memory… but the minute I speak about gabe's death, or his mom speaks of his suffering, it becomes visceral.   I do relive it sometimes as one does a trauma.  The beautiful thing about this movie is that it provides us with a cathartic moment we can experience over and over and get to the other side of the suffering that I've carried for 22 years.  Seeing him on screen and enjoyed by so many is healing, and let's us celebrate his life.
 I also dealt with my feelings about the lawsuit and Madonna years ago, and actually saw her the same week that I  had begun reaching out to peeps from the tour to address that.  it was the most serendipitous moment, hugging her and holding hands and chatting.  I think she thought I was Michael Gregory (from the girlie show), but I don't care.
I left feeling complete that I had shown up with completely authentic love.  I  know my side of the street is clear, and so that part doesn't hold upset for me anymore at all.  I've become a stronger man and a more fully realized artist from my experiences, so I mostly look back with a smile and thanks.
During the blonde ambition tour – what is your most memorable moment? 
Perhaps not my finest nor favorite moment, but the only mishap that really happened on stage was definitely my most memorable moment. Madonna was singing to me during papa don't preach, and as an angry priest, I wasn't looking at her. She came closer than she was supposed to, and when I turned to continue my choreography my shoulder hit her mic.  I heard a loud sound distortion as I hopped away, and looked back to see Madonna's huge eyes glaring back at me like she wanted to kill me. The mic had broken her front tooth in half live on stage, but I only found out after the number because she continued like nothing had happened.  Truly professional. I thought I was going to be fired.
You guys were part of something that really has set the trend for something other artists began to follow – For us Beyoncé is the only one who like Madonna puts on a show which ties in music fashion dance and art so perfectly – did you know then you were making history ?
We had no idea.  Also it was our first tour, so I just thought that's the way all tours were.  It's certainly gave me high expectations afterwards! I listened to Vincent Paterson so closely, he is an extraordinary mentor and taught me so much. I didn't understand the scope of the tour until many years later.  I didn't really look back, but I kept looking to create work of the same caliber everywhere I went. Time allows for great perspective, and we've come to understand the worldwide impact of it from fans everywhere who have shared with us how it changed or saved their lives.  I've always loved fashion, but galavanting around the fashion houses of the world with Madonna turned me into an addict. We were so impressionable and in awe of the beauty and so many different cultures.
What was it like to see the other dancers after so long ?
We instantly became our younger selves from 25 years ago. Our dynamic hadn't changed at all, and it suddenly seemed ridiculous that so much time had passed without us ever seeing each other. There was this bond and love between us, and it was just a phone call away.  After so many years we had begun to doubt our own memories and feelings. Hugging each other felt like lost lost family.
We adore Jose His scenes with his mother are funny and incredibly heartfelt – and it apparent this more than just a film looking back at a time when everything was fun and more about the journeys you guys have endured – was it hard for some of the dancers? 
Yes, as you can see in the movie we all had our own journeys.  It's the nature of life to have successes and failures.  We live, and lived, large.  Our successes and failures were just as large and dramatic as we are. We are all in a place in our lives where we are old enough to have enough wisdom to embrace ourselves for who we are, good and bad.  Strike a Pose has transformed our midlife crisis of nervous reflection into a glorious celebration of our youth and journey.
Has Madonna seen Strike A pose?
Perez Hilton moderated our question-and-answer session on the opening night in Los Angeles last Friday. He surprised us when he told us he ran into Guy O'Seary, Madonna's manager, and Guy told him that she had seen strike a pose and that she liked it. Nice to know!
Reunion – why did no one think of it before! Since the film your journeys have been amazing – it almost feels like blonde ambition part 2 – if you could do it again – what would you change ? 
If I could go on tour again I would be much more aware of the opportunity that it was.  I would be more expressive and thankful and sleep maybe a little more. I think I saw far too many sunrises during that tour! I would have saved more money and been more outspoken.
You're part of history – a legacy which will be part of educational books in years to come! You guys helped a generation – boys wanted to be you! At the time did you know you were shaping a generation ? 
Of course not! That's a lot of responsibility to put on a 20 year old! It may have shut me down if I felt kids of the future would be watching me that closely or looking up to me. The idea of being a role model is terrifying. I'm so flawed and so very human. I make massive mistakes and terrible decisions just like everyone else. Somewhere I have this feeling that a role model is perfect. Perhaps being a role model is not about what we do or don't do, but how we learn and grow from our failings. Maybe it's more about character and humanity. That I could get behind.  I was given so much freedom as a child, I don't take that for granted and I know others were not as fortunate. If I could show a bit of clear open sky on the other side of whatever that generation was facing, that's extraordinary.
I was 8 when I found a VHS copy of the blond ambition tour that belonged to my sister – I remember being in utter amazement – reenacting the routines in my bedroom to an audience I had found from the streets to watch – ok they were forced. Where were you when you were confirmed as a dancer and how did you feel? 
I was on the set of vogue on the second day of shooting when she offered the job to me to come on tour with them.  We were sitting outside. She had curlers in her hair and a white terry rove. I told her I'd have to get back to her. She was taken aback. I had some other gigs I had to get out of correctly and took that seriously! I was already on the job as the associate choreographer.  I didn't even know what that meant when they called me, so it was a mixed response from me. My agent went crazy, and I sort of shrugged because I didn't know how big a job it was nor how famous she was around the world!
We've been lucky to see the film already and we can't watch it again! When you were approached to do it – was it a yes instantly ? And what's your favourite part of strike a pose ? 
I was a very quick 'yes' once I had met the directors. I felt ready to clear the misinformation out there about our story and the lawsuit (though that really didn't get cleared up in the movie after all). I love watching Jose with his mom. Seeing him be vulnerable is heartbreaking and pulls me to him. He was always the queen warrior back in the day.
Finally – did you get to keep any of the outfits from the tour ? 
I have ALL of them! Except the racer hoodie that my ex boyfriend stole. I even have my shoes and the underwear. No fishtail though 🙁

And that's a wrap.
Kevin, it has been a pleasure! and thank you! we look forward to hearing more about your adventures! Continue to Vogue darling.
Instagram | Kevinstea
                       | Strikeaposefilm